Working Knives of Bhutan
The knife is a basic tool in Bhutan, used by villagers and farmers alike. Two knives, the Doo Zum and the Patang, are in common use daily.
Variant spellings and names: Doo Zum, Dudzom, Dro Zom : Pa-tang, Patang, Batha, Gee Chu
In Thimphu, Bhutan's capital, the Weekend Open Market had several open stalls selling knives. The Doo Zum cost 150 Ngultrum (approx. 3.41 USD) and the Batha cost 350 Ngultrum (approx. 7.90 USD).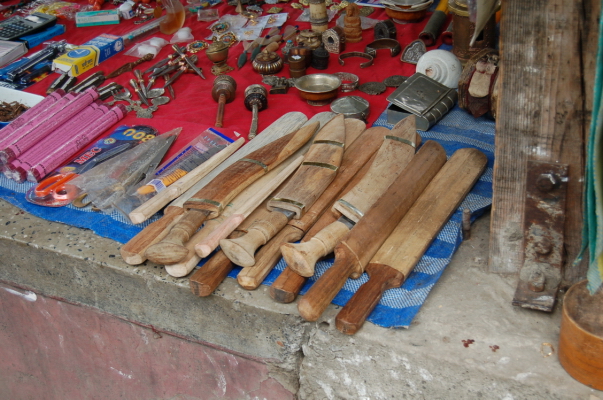 Blades for sale in Thinphu
Both knives are hand-made of carbon steel of an unknown quality, hafted and sheathed in a soft local wood. They are made for local consumption, rudely finished and priced low enough for the local populace to afford. It is not unusual for the purchaser to finish the hilt and sheath with a leather or thin metal wrap or polish and decorate them.
Bhutanese shopper at the knife stall
The Doo Zum has an overall length of 11.5 inches in it's sheath, 7 inch blade and 3.75 inch handle. The blade is .25 inch thick, 1.0 inch wide and tapers to a long point. It is flat ground (or, more likely, hand planed with a metal cutting spokeshave), with a .125 inch convex secondary bevel. It weighs 4.0 oz (4.8 oz with sheath). The Doo Zum is primarily an everyday utility knife.
Two DooZum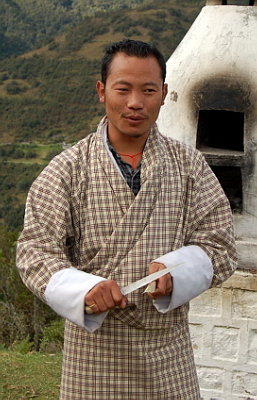 TseWang whittling a stick with a Doo Zum
This knife is often carried in the pouch created by a man's Gho, a knee length overlapping robe secured tightly by a woven cloth belt wrapped two-three times around the waist. It rides horizontally in front of the belly. The knife length is short enough to be fully concealed in the pouch.
Doo Zum
The Patang (or Gee Chu) has an overall length of 19.5 inches in it's sheath, 13 inch blade and 6 inch handle. The blade is .3125 inch thick, 1.625 inch wide, ending in a 1.0 inch 30 degree chisel point similar to a Americanized tanto point. It is flat ground with a slight convex bevel. It weighs 20.4 oz (23.0 oz with sheath).
The blade actually has a slight taper from 39mm at the hilt end to 44mm at the tip end.
Patang (Gee Chu) and two Doo Zum
The ruler is 15 inches long
The Patang can be carried in the Gho pouch or can be adapted for belt use hanging from the left or right hip. Patangs can vary in length from a 7 inch blade to that of a short sword. It is used like a camp knife for cutting wood, trimming branches, preparing food, etc.
Farm boy with Patang


Sheathing it in his folded Gho.
Note that he carries it edge up.


Kinley (r) and young monk with his knife handle protruding from his robe

Bhutanese man with his Patang hung from his right hip
Young monk preparing meat with Patang
Kinley holding sword, basically a long Patang blade.
Note the metal clad hilt and sheath






=============

Jim Yuen (c) 2006